We advocate for Smart Growth because we know that it makes our towns better to live in and assigns value to the environment.
Development guided by Smart Growth principles minimizes air and water pollution, reduces greenhouse gas emissions, encourages cleanup and reuse of contaminated, vacant and abandoned properties, and preserves natural lands.  With Smart Growth, the jobs/housing needs of everyone in the community are met and people feel secure, healthy and ultimately happy. Our environment is appreciated, protected and enhanced and damage to the environment is minimized. Our economy is vibrant, employment and housing opportunities are improved and our working lives are more rewarding.
We need clear perception, access to technological resources and a broad range of solutions if we are to simultaneously accommodate population growth, cultivate economic development and protect the environment.   We, environmentalists, start with a vision and a roadmap as represented in Smart Growth principles. In our Smart Growth case study, the Citizen-Initiated Smart Growth Plan Phase 1 (CISGP 1), we calculated the development impacts on a 10,000-acre Placer County site in two build-out scenarios of comparable development intensity: one is Smart Growth and the other is conventional urban sprawl. We found that the people the economy and the environment benefited from the Smart Growth scenario because:
Reduced household greenhouse gas emissions​
Acres of vernal pool habitat preserved
Reduction in total water use (residential and commercial)
Household costs saved annually per household
Local workers have local affordable housing choices
Could walk to everyday amenities in under 15 min.​
These benefits, along with the results of over 60 additional metrics, have inspired us to take our planning to a county-wide level. In 2020, we are gearing up to produce a county-wide Smart Growth plan, called the Citizen-Initiated Smart Growth Plan 3. Subscribe to stay tuned in to how it develops.
In the mean time, here are our major publications: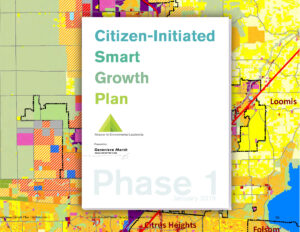 This is the main publication of our Smart Growth case study in South Placer. It illustrates our process, environmental research, proposal, and all the metrics we measured.  More >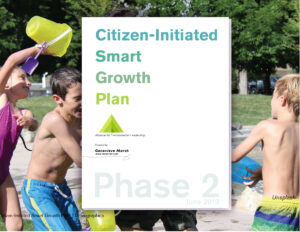 This follow up publication focuses on county growth, housing types, and housing demand. It busts myths about the infeasibility of multifamily housing and who relocates to Placer County. More >
Our Pioneering Planning Method
In September 2020, the California Energy Commission invited our urban planning consultant Genevieve Marsh to present the CISGP's unique planning method at their EPIC Forum. Focusing on decarbonizing California, Marsh's presentation demonstrated to the audience how the planning process alone can assist state wide decarbonization efforts. Here is her presentation:
Curious if a project meets Smart Growth Standards?
There are lots of rubrics developed by Smart Growth groups that help score projects. Evaluating your project with the EPA's Smart Growth standards:
Frequently Asked Questions