Our goal is to foster an inclusive community across the environmental nonprofit sector. We seek to facilitate cross-pollination of organizations and projects, germinate new leaders, and include new people in the environmental community.  
We named ourselves after the term "web of inclusion," first defined in Sally Helgesen's book, The Female Advantage. It describes a way of structuring an organization in a circular way, rather than a top down hierarchy. This is how we run our group and also the structure model we hope to bring to the sector. Here is a synopsis of how this works in practice:
The web creates a organic and adaptable structure which places leadership in the middle of a community rather than the top. 

Helps to value all members, rather than valuing title or position, and allows us to utilize all members more effectively. 

Power is created by sharing information, rather than hoarding it.

This empowers frontline volunteers because leaders gain strength by sharing knowledge with the frontline. Similarly, leaders seek to learn from the frontline so they have new knowledge to share elsewhere.
Join us if you are interested in exploring the sector as a whole and identifying interconnections and the spaces in between.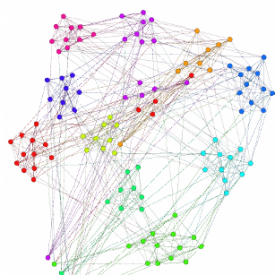 Group Meeting
Get together to work on our Web of Incllusion project, described below.
BYO Laptop, and text ahead if you plan to attend: 916-316-8061.
Venue: Tango, Downtown Auburn or elsewhere
Date: Every Wednesday @ 6 pm – 7:30 pm
Let's Draw the Web of Inclusion
Diagramming the Existing Environmental Sector and Analysing It
Ever wonder how many environmental groups are in Placer County? Or what they do? Or even what the overlaps are?
We are on a quest to see the big picture. We have identified 850 nonprofits in Placer County and are working on understanding how each one relates to the whole. This project has many facets, from data organization and analysis, to phone calling and graphic design. In the end, we expect to produce a huge web diagram of all existing groups that can be sorted by different subject areas, etc.
As we gather insights, we will publish them here. In the mean time, consider jumping in and casually volunteering with us.